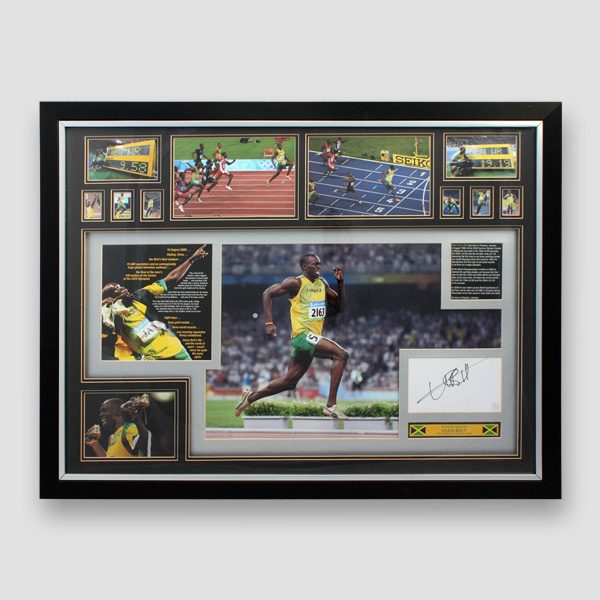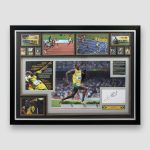 Usain Bolt Montage Signed and Mounted Framed Montage Display
£300.00
Remember the moment when Usain Bolt won his Olympic Gold medals? this is a superb piece of memorabilia of the fastest man on the planet. Excellent image of Usain Bolt with a hand signed card.
We guarantee that every item we sell is 100% genuine. Almost all the items are signed at official signing sessions. All our items are supplied with a full certificate of authenticity. We offer a full refund for any item you are not completely satisfied with if returned to us within 14 days of receipt and in it's original condition. Please see our full terms and conditions page for more information.
Description
Beautifully presented signed Usain Bolt Olympics photo montage with signed card. Framed in a quality black gloss wooden frame with double black and sliver mounts.
Please note: we do have more than one, so signed autographs size and position will slightly differ.
Certificate of Authenticity
Every signed product is issued with a Certificate of Authenticity signed by our Managing Director, which guarantees that every item has been hand-signed. The certificate includes  security features to avoid duplication and protect your investment.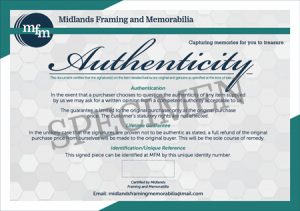 Security Features
1. Quality of printing & paper
The printed lines and colours of the many intricate patterns on our Certificate of Authenticity are sharp, clear and free of smudges or blurred edges. The paper is high quality, textured and of a heavier weight than normal paper.
2. Integrated image
Each Certificate of Authenticity also includes either an example image of the product, a small photo of the individual signing the product and/or a video.
*Images are for illustration purposes only and the product/signature location & size my differ slightly.
3. Verified by our CEO
Every single Certificate of Authenticity is also verified by our chief executive officer – to guarantee that the item is genuine and hand signed.