The Official Bradley Wiggins 101 Classic Edition Opus Book with Hand Signed Photograph
£150.00
Sir Bradley Wiggins narrates the story as it unfolds, day by day during Le Tour to the stunning backdrop of photography afforded to Team Sky's official photographer, Scott Mitchell. The unprecedented access given to Mitchell allows for the greatest insight to Sir Bradley and Team Sky during the Tour. The blood, sweat, pain and euphoria is captured in a way never before possible and is brought to life in this panoramic Opus format.
"This Opus is dedicated to my family, friends and team mates who have all made sacrifices over the years and allowed me to compete and make history in Paris."
Sir Bradley Wiggins
Description
The Official Bradley Wiggins Opus is the ultimate celebration of the historic Tour de France of 2012.
The book measures 35 x 45cm, 360 pages. Weighing 15kg.
Included with this book is a hand signed 12″ x 8″ photograph. You will receive one of the photos shown in the product gallery, it will be a random choice. If you require a specific photograph please contact us before ordering, and will do our best to meet your needs.
All our items come with Certificate of Authenticity.
Certificate of Authenticity
Every signed product is issued with a Certificate of Authenticity signed by our Managing Director, which guarantees that every item has been hand-signed. The certificate includes  security features to avoid duplication and protect your investment.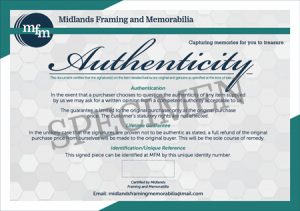 Security Features
1. Quality of printing & paper
The printed lines and colours of the many intricate patterns on our Certificate of Authenticity are sharp, clear and free of smudges or blurred edges. The paper is high quality, textured and of a heavier weight than normal paper.
2. Integrated image
Each Certificate of Authenticity also includes either an example image of the product, a small photo of the individual signing the product and/or a video.
*Images are for illustration purposes only and the product/signature location & size my differ slightly.
3. Verified by our CEO
Every single Certificate of Authenticity is also verified by our chief executive officer - to guarantee that the item is genuine and hand signed.