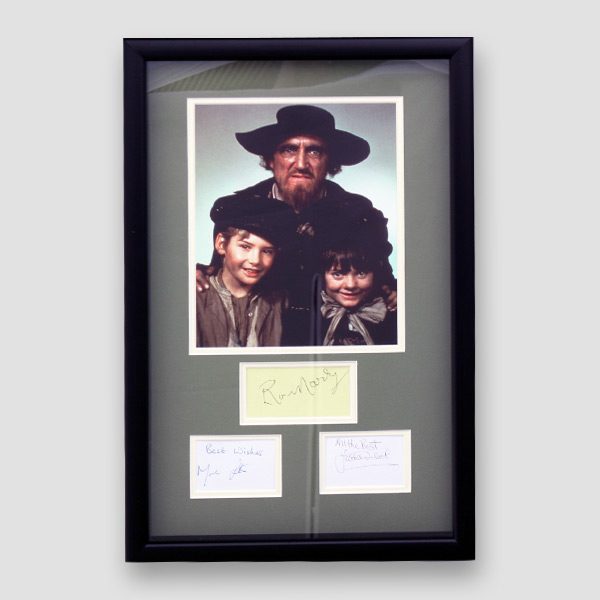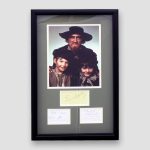 Oliver Twist Musical Cast Photo and Autographs Mounted and Framed of 3 of the Main Cast
£250.00
Oliver! is a British musical, with music and lyrics by Lionel Bart. The musical is based upon the novel Oliver Twist by Charles Dickens.
Mark Lester is an English former child actor who starred in a number of British and European films in the 1960s and 1970s. In 1968 he played the title role in the film Oliver!, a musical version of the Charles Dickens' novel Oliver Twist. Lester also made several appearances in a number of British television series.
Ron Moody was an English actor, singer, composer and writer best known for his portrayal of Fagin in Oliver! and its 1983 Broadway revival. Moody earned a Golden Globe Award and an Academy Award nomination for the film, as well as a Tony Award nomination for the stage production.
Jack Wild was an English actor and singer, best known for his debut role as the Artful Dodger in Oliver!, for which he received an Academy Award nomination for Best Supporting Actor as well as Golden Globe and BAFTA nominations.
Description
Oliver Twist photo of 3 of the cast – Oliver Twist (Mark Lester), Fagin (Ron Moody) and Artful Dodger (Jack Wild) and their signatures mounted & framed in a black frame. Frame size 13inch x 20.5inch.
Great piece of Memorabilia. Great collectors item.
All our items come with Certificate of Authenticity.
Please note: we may have more than one, so signed autographs size and position will slightly differ.
Certificate of Authenticity
Every signed product is issued with a Certificate of Authenticity signed by our Managing Director, which guarantees that every item has been hand-signed. The certificate includes security features to avoid duplication and protect your investment.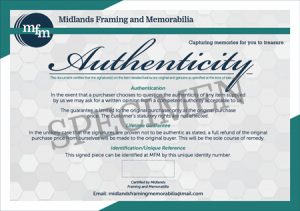 Security Features
1. Quality of printing & paper
The printed lines and colours of the many intricate patterns on our Certificate of Authenticity are sharp, clear and free of smudges or blurred edges. The paper is high quality, textured and of a heavier weight than normal paper.
2. Integrated image
Each Certificate of Authenticity also includes either an example image of the product, a small photo of the individual signing the product and/or a video.
*Images are for illustration purposes only and the product/signature location & size my differ slightly.
3. Verified by our CEO
Every single Certificate of Authenticity is also verified by our chief executive officer – to guarantee that the item is genuine and hand signed.