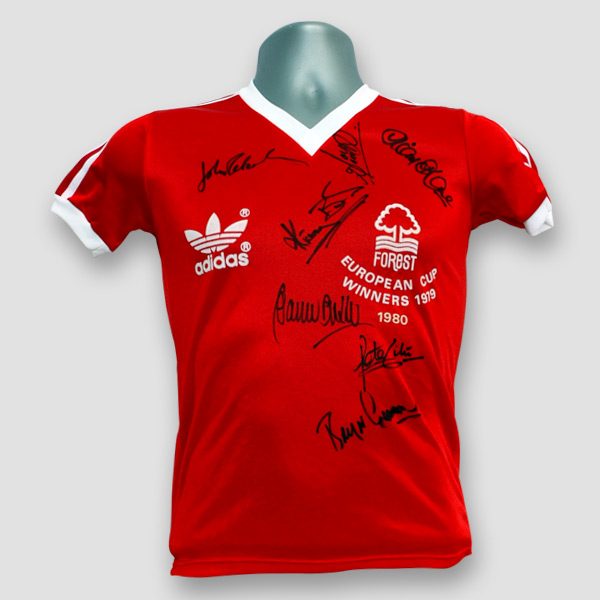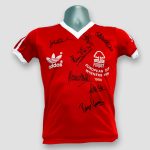 Nottingham Forest European Cup 1979 Winners Original Shirt Signed by 7
£100.00
When Brian Clough arrived at the City Ground in 1975, Nottingham Forest were in 13th place in Division Two. Promotion soon followed and by 1979 his side were kings of Europe.
Under Brian Clough, Nottingham Forest, a relatively small English provincial club, had won European club football's prize, knocking out two-time defending champions Liverpool a long the way. Just two years earlier, Forest had been in English footballs second tier. Forest would retain their title the following year.
The European Cup Final held at Olympiastadion, Munich on 30th May 1979. Brian Clough's legendary Nottingham Forest squad rose from obscurity to win back-to-back European Cups in 1979 and 1980.
Description
The football shirt is an original child's size shirt and is sign in black permanent marker pen by John Robertson, Tony Woodcock, Liam O'Kane, Kenny Burns, Garry Birtles, Peter Shilton & Bryn Gunn.
All items come with certificate of authenticity.
A great piece of Memorabilia
Please note: we may have more than one, so signed autographs size and position will slightly differ.
Certificate of Authenticity
Every signed product is issued with a Certificate of Authenticity signed by our Managing Director, which guarantees that every item has been hand-signed. The certificate includes security features to avoid duplication and protect your investment.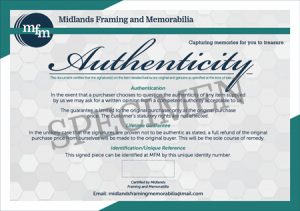 Security Features
1. Quality of printing & paper
The printed lines and colours of the many intricate patterns on our Certificate of Authenticity are sharp, clear and free of smudges or blurred edges. The paper is high quality, textured and of a heavier weight than normal paper.
2. Integrated image
Each Certificate of Authenticity also includes either an example image of the product, a small photo of the individual signing the product and/or a video.
*Images are for illustration purposes only and the product/signature location & size my differ slightly.
3. Verified by our CEO
Every single Certificate of Authenticity is also verified by our chief executive officer – to guarantee that the item is genuine and hand signed.