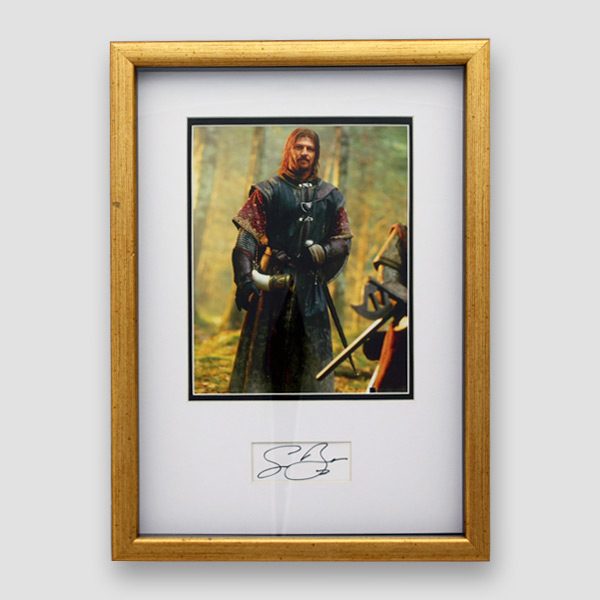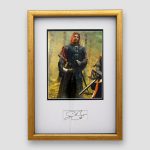 Sean Bean Photo (As Boromir) and Autograph (Framed)
£86.00
Shaun Mark Bean credited professionally as Sean Bean he's an English actor. After graduating from the Royal Academy of Dramatic Art, Bean made his professional debut in a theatre production of Romeo and Juliet in 1983. Retaining his Yorkshire accent, he first found mainstream success for his portrayal of Richard Sharpe in the ITV series Sharpe.
Further roles followed, including Patriot Games (1992), GoldenEye (1995), Ronin (1998), The Lord of the Rings trilogy (2001–2003), Equilibrium (2002), National Treasure (2004), Odysseus in Troy (2004), North Country (2005), The Island (2005), Silent Hill (2006), Black Death (2010), Jupiter Ascending (2015) and The Martian (2015).
Other TV roles include the BBC anthology series Accused, Game of Thrones and the ITV historical drama series Henry VIII. As a voice actor, Bean has been featured in the video games The Elder Scrolls IV: Oblivion, Sid Meier's Civilization VI, and the drama The Canterbury Tales, among several others.
Description
This Sean Bean Photo is him as Boromir from the Lord of the Rings: Fellowship of the Ring, with his autograph underneath. Framed in a white mount & gold frame. The autograph has been signed with a permanent black marker pen.
Attractive piece of memorabilia
All our items come with Certificate of Authenticity.
Please note: we may have more than one, so signed autographs size and position will slightly differ.
Certificate of Authenticity
Every signed product is issued with a Certificate of Authenticity signed by our Managing Director, which guarantees that every item has been hand-signed. The certificate includes security features to avoid duplication and protect your investment.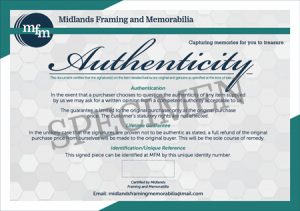 Security Features
1. Quality of printing & paper
The printed lines and colours of the many intricate patterns on our Certificate of Authenticity are sharp, clear and free of smudges or blurred edges. The paper is high quality, textured and of a heavier weight than normal paper.
2. Integrated image
Each Certificate of Authenticity also includes either an example image of the product, a small photo of the individual signing the product and/or a video.
*Images are for illustration purposes only and the product/signature location & size my differ slightly.
3. Verified by our CEO
Every single Certificate of Authenticity is also verified by our chief executive officer – to guarantee that the item is genuine and hand signed.